Meet Your Farmer Dinners are a series of experiential dining experiences that pair the farmers and chefs of rotating local restaurants. The chosen chef prepares the meal using as many of the featured farmer's products as possible, supplemented by other local ingredients. Diners are treated to a presentation from the featured farmer about his or her farm and the products that were used during the lovingly prepared meal. This program builds farm to chef relationships.

Locavore presents: A unique dining experience crafted to connect you with the hard working men and women of Central Oregon who grow the food that nourishes and sustains us. Featured Rancher: Stephanie and Jack Samples of Beef Barn, Bend. Plus, Organically grown produce by Worthy Garden Club. 
Location: 495 NE Bellevue Dr, Bend, OR 97701
Meet Your Farmer at Worthy Brewing Company featuring Beef Barn
Saturday, September 30, 2023 at 6 p.m.
*All proceeds benefit Central Oregon Locavore Non 501(c)3 Profit, a portion of your ticket price is deductible to the extent of tax law
Get Tickets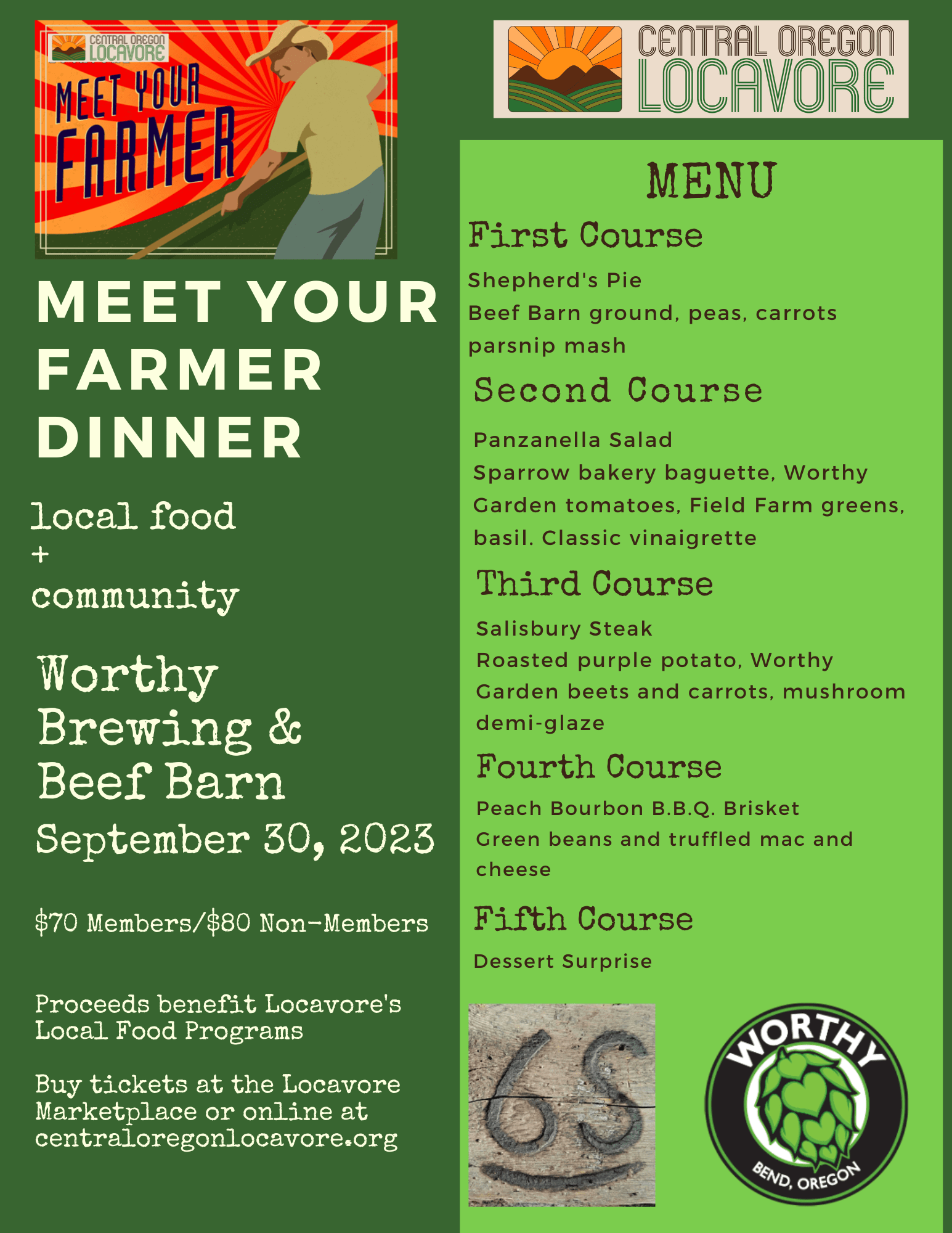 Deschutes Brewery featuring Barley Beef

March 2020

Barrio featuring Pioneer Ranch

December 2019

The Oxford featuring Mahonia Gardens and Splitting Aces Ranch

August 2019

Joolz featuring Crooked River Bison

March 2019

Dogwood Cocktail Cabin, CHOW and Oregon Spirit Distillery

February 2019

Deschutes Brewery featuring Barley Beef

January 2019

Barrio featuring Golden Eagle Organics

December 2018

Wild Oregon Foods featuring Crooked River Bison

March 2018

Deschutes Brewery Mountain Room featuring Barley Beef

January 2018

Tetherow featuring Crooked River Bison

January 2017

The Barrel Thief featuring Oregon Spirit Distillers and Gary Bishop of Bishop Farms

March 2016

El Sancho featuring HolmesStead Ranch

February 2016

Deschutes featuring Barley Beef

January 2016

Barrio featuring Imperial Stock Ranch

December 2015

Jacksons Corner East featuring Sarahlee Lawrence & Ashanti Samuels of Rainshadow Organics

November 2015

Joolz Restaurant featuring White Diamond Ranch

May 2015

The Drake featuring Dancing Cow Farm

March 2015

Dogwood Cocktail Cabin featuring Sagestruck Herbary

September 2014

Pronghorn Resort featuring Windflower Farm

July 2014

Brasada Ranch featuring Rainshadow Organics, Great American Egg and Powell Butte Bison Ranch

June 2014

Cascade Culinary Institute featuring Good Earth Farms

May 2014

Barrio Featuring Vaquero Valley Ranch

december 2013

Cascade Culinary Institute featuring DD Ranch and Juniper Jungle

October 2013

The Depot Cafe featuring Juniper Jungle and HolmesStead Ranch

June 2012

Scanlon's featuring Sandlily Goat Farm and Juniper Grove Farm

June 2012

Cascade Culinary Institute featuring Windy Acres Dairy Farm

April 2012

Common Table featuring Field's Farm

August 2011

Common Table featuring Rainshadow Organics

July 2011

Timber Creek Ranch

June 2011

Great American Egg

March 2011