Benefit Dinner & Auction hosted by Bend FFA Alumni & Booster Club
May 6 @ 5:00 pm
$39 – $750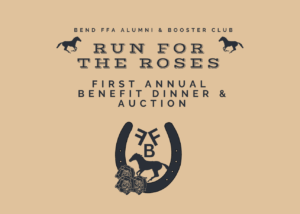 Run for the Roses - Kentucky Derby Themed Benefit Dinner and Auction
Spend a night at the races while supporting your local Bend FFA Chapter members with an evening of fun! Participate in both the silent and live auctions and try your luck at the games!
The Bend FFA Alumni and Booster Club wants to offer as many opportunities as possible to the Bend FFA Chapter members.
This benefit event will allow the Alumni to purchase the necessities for the chapter members. It will also help provide scholarships and financial support to the members' projects and travels throughout their years of membership. This benefit event is a way for the chapter members to be involved with the community and allows them to work with those who support & impact their lives.
Related Events